Dewalt DCV-580 Vacuum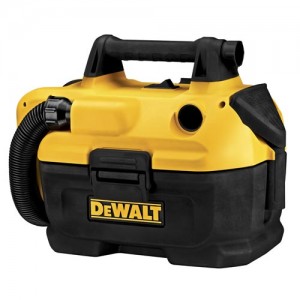 Recently, I saw the release announcement from DeWalt of their lineup of portable 20v vacuums. I've currently split my tool collection between the Dewalt 20v Series, the Milwaukee 12v M12 lineup and also have a few Bosch 18V (Namely a radio and hammer drill). I've had my eye on this vac for quite a while, it was previously only available in an 18v configuration. I needed something a little more portable than my shop vac, and running off of batteries makes me more likely to use it for quick clean ups. So far the unit has been really impressive.
Highlights:
Runs from either 18V or 20V battery packs.
Available in corded + cordless, or just cordless (this is the one I bought)
Good capacity, I used it for a number of cleanup jobs and barely made a dent in it. Pretty much the entire unit is capacity.
Great battery life. I connected a new 4.0ah 20V Max battery and ran the unit for over 30 mins and still had a bar remaining. This is pretty impressive, as 30mins of vacuum run time is pretty damned good. You use it for less time then you'd think, for reference, my cordless Dyson for indoor use lasts only 6 minutes on high!
Here are some pics of my unit – I'd highly recommend you try one out.
Invalid Displayed Gallery
Matt is a woodworker from Calgary, Alberta and runs Westside Woodworks where he makes cutting boards, furniture and other projects.